Emergency Restoration and Cleanup Services in High Point, NC
Best Option Restoration works to help recover and build home after disaster strikes. If you're interested to become a Best Option Restoration franchise owner in High Point, NC, please fill out the form below or call us at (720) 204-2095
Take your first step today
Disaster Restoration Franchise Opportunities in High Point, NC
We are the only franchise to exclusively use thermal technology on every job, make speed a priority
Restoration is a 210 Billion dollar industry
73 Restoration Jobs per every 100,000 people per month. 
Best Option Restoration does the back office work like invoice review, billing and invoice collections so the franchise can concentrate on marketing and jobs calls
Family atmosphere 
Proprietary Best Option Restoration software systems with all the bells and whistles
We award the largest exclusive territories in the franchise space
Opportunity for unlimited growth in most markets
National and regional contracts
 Why Best Option Restoration is Better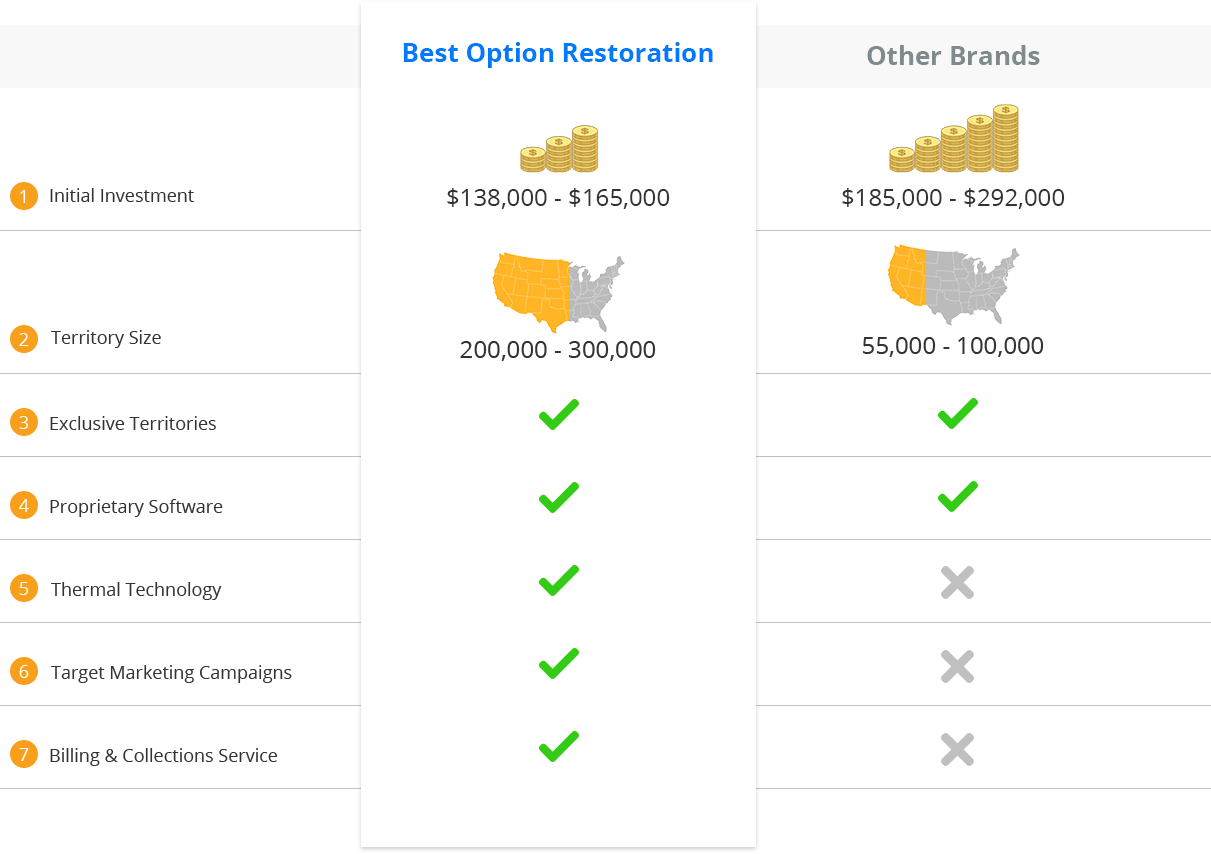 Fires in the U.S.
Households can expect to average a home fire every 15 years or five fires in an average lifetime. (Life expectancy now averages 78 years in the U.S., according to the Statistical Abstract.) That is one of the results of the latest survey of unreported fires, conducted by the U.S. Consumer Product Safety Commission, when combined with NFPA's annual tracking of reported fires.
Each year there are more than 1,300,000 fires reported in the United States. These fires caused $10.6 billion in property damage. 475,500 were structure fires causing $7.9 billion in property damage.
The U.S. fire loss clock a fire department responds to a fire every 24 seconds. One structure fire was reported every 66 seconds.
One home structure fire was reported every 90 seconds.
One outside and other fire was reported every 48 seconds.
In communities with less than 5,000 population, the frequency of fires per thousand population is higher
Weather Related Damages in the U.S.
During last years weather-related damages reached $18,438 billion. Property damages were estimated at $18,195 billion. The most costly weather culprit for property owners was again floods, which caused $10.7 billion in damages, followed again by hail ($3.5 billion) and this year by tropical storms, ($3.1 billion). Crop damages totaled about $243 million per year. Once again, flooding caused the most crop damage, accounting for $199 million. Louisiana accured the most in damages in last years, $9.2 billion in losses, mostly from flooding.
| | |
| --- | --- |
| Weather Event | Property Damage (million $) |
| Lightning | 23.02 |
| Tornado | 181.16 |
| Thunderstorm Wind | 144.89 |
| Hail | 3,512.67 |
| Flash Flood | 3,641.30 |
| River Flood | 7,066.22 |
| Coastal Storm | 220.94 |
| Rip Current | 32.48 |
| Tropical Storm / Hurricane  | 3,053.92 |
| | |
| --- | --- |
| Weather Event | Property Damage (million $) |
|  Winter Storm  |  22.92  |
|  Ice |  9.62 |
|  Drought |  1.74  |
|  Dust Storm |  1.29 |
|  Dust Devil  |  0.05 |
|  Rain  |  4.38  |
|  Fog |  0.19 |
|  High Wind  |  95.80 |
|  Fire Weather |  181.50 |
Emergency Restoration and Cleanup Services in High Point, NC